House Restumping Toowoomba
TIME TO RESTUMP YOUR HOME?
Local builder with 30 years experience
HOUSE RESTUMP TOOWOOMBA
Where Experience counts
The foundation is the most important part of your home.
If it isn't right, nothing is right.
House Restumping & Levelling
Does your home feel uneven, doors & windows hard to close or show signs of foundation problems?
We understand how important your stumps are and use the latest technology to ensure that when your stumps are replaced you will never have to replace them again.
Soil movement can cause structural damage. It's vitally important footings are designed to suit your particular soil type. Our engineer designed footings are designed to minimise movement.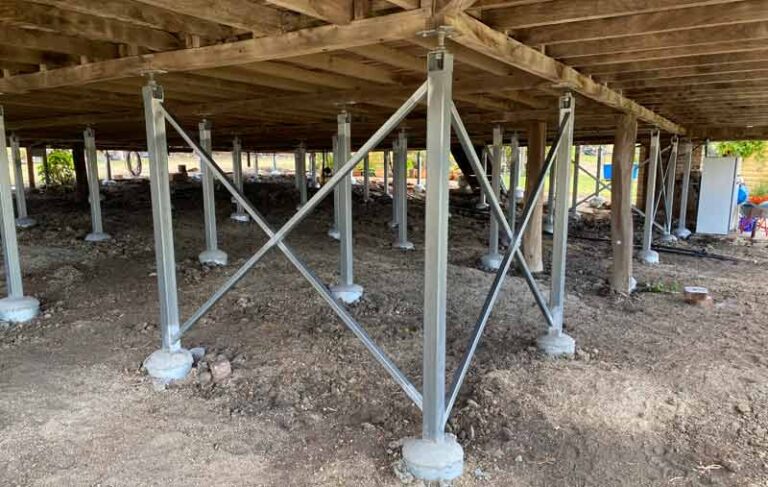 We use Maxi Tube, which is a Hot Dipped Galvanised equivalent and up to 5 times more durable than standard electroplated gal.
We use a 30mm thread on our adjustable stump and have had extensive experience in this area.
We check all ant caps and replace any with holes or damage.
Replace the foundations of your home to prevent movement and structural damage. We understand fixed points and will level your house to its ideal level without stressing its structural integrity.
We use regularly calibrated Laser Levels and understand building sub floors, step ups, step downs, falls on verandah, or whether there isn't a fall. We level the floor to get your bench tops and doors right. 
A common problem that we see a lot is stumps that have been put in incorrectly using below par materials. Often the repair can be more than the price of the original. We do it right, the first time.
We offer a lifetime guarantee on the adjustable stump.
M30 thread on adjustable top. Fully lockable – others have movement to allow you to adjust it easily, ours can be locked up tight when adjustment is completed.
M30 thread allows for up to 150mm of adjustment.
Cobalt coating on adjustable top.
25MPA concrete used (25% stronger than standard engineer designed footings)
90 x 90 x 3mm Maxi Tube posts – more lateral strength than 75 x 75mm post – less 'racking', vibration in the house. Maxi tube is as good as Hot Dipped Galvanised. We made the decision to use Maxi Tube after doing many repairs to standard galvanised stumps that at times were completely rusted off in under 10 years.
If bracing is required, we do a welded cross brace. These are good in tension and compression. This also reduces racking and movement in the house.
Engineer designed footings.
Concrete built up well above ground to ensure water runs off.
Laser levelled.
Polite staff with no loud music or swearing.
Honest and reliable.
Don't trust just anyone with a job as important as this one.
Free appraisals and quotes for home owners
We offer free appraisals quotes up to a 50km radius of Toowoomba.
We are happy to travel anywhere in Queensland for full restumps and can quote these based on the information you give without travelling large distances to quote.
If you are unsure whether you need Restumping or Levelling, we are more than happy to give you a free appaisal and quote*